Love in St. Louis
Posted by Leticia, 14 Jan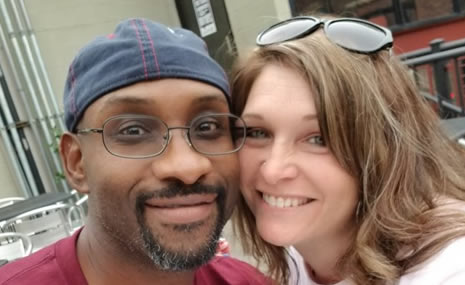 Though she was "not confident," Dalisa WAS looking for Mr. Right, and saw online dating as her best way to "open up possibilities for him to find me." William was on her wavelength: "I wanted to open up possibilities for my mate!" He definitely saw the potential in Internet personals. "The Internet is a good thing, if used for good purposes," observes William.
Two weeks after posting her profile, Dalisa got a hit. "He reached out to me through instant message," she remembers of William's first contact. He'd only been a member for a month himself. There was something about Dalisa's profile that he found irresistible. "Her profile spoke to my heart," declares William.
Find your soulmate on Swirlr










Their conversation convinced them to meet up for a date. "His attentiveness" stood out to Dalisa, compelling her to see if sparks would fly in person. "We met in St. Louis, went to the Arch, and ate dinner," reports Dalisa about Date No. 1. William adds that they went to the zoo, too. Sounds like a jam-packed schedule! But they had plenty of time to connect, and Dalisa describes their chemistry as "amazing."
What his profile promised, William delivered that day. "He was true to what he said," Dalisa confirms. The feeling was mutual. William says, "She was real!" He actually brought her a promise ring that day, and afterwards he was "3000%" percent sure that they'd see each other again.
Today William describes the progress of their relationship as a "skyrocket into flight" and notes that he really appreciates that Dalisa is "passionate about life." Simply put, he thinks she's an "amazing woman." Dalisa admires William as well. "He is coachable," she notes, calling him an "absolute perfect" match for her.
Distance was an issue for them, but when they met at the airport both singles knew this relationship could be very special. From that point on, they were determined to persevere. For Dalisa the reason why is obvious. "Love has changed my entire life," she says. "I'm so thankful to God for him." William says his sweetheart has changed his life "for the better." Their relationship has "made things more worthwhile," he tells us.
"Keep it real and keep God first" are Dalisa's words of advice for believers looking for true love online. William wants members of our site to strike a balance between flexibility and selectiveness. "Keep an open mind, but don't lower your standards," he advises.
5 responses to "Love in St. Louis"
Leave a reply
You must be logged in to post a comment.