Love at First 'Click': Claudy & Scott's Romance
Posted by Leticia, 02 Oct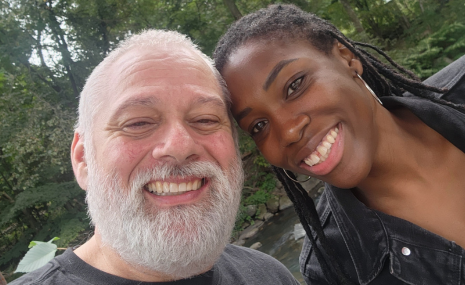 Online dating has revolutionized the way we meet and connect with people. With countless success stories from couples who have found love, the allure of the digital romance realm cannot be ignored. One such captivating tale is that of Claudy and Scott, a couple who, despite different journeys on the site, found chemistry, connection, and companionship.
Claudy and Scott, both embarked on our site journey with confidence and hope. "I was very optimistic about finding love online," shares Claudy. Scott echoes the sentiment, saying, "I was very confident too."
Find your soulmate on Swirlr










Their online meeting was almost serendipitous. While Claudy had been on the site for nine months, Scott had only just joined a week prior. It was Scott who first reached out, sending Claudy a flirtatious message. "Her picture and profile caught my eye immediately," Scott recalls. Claudy, on the other hand, was smitten by the flirt she received.
The pair quickly graduated from the digital domain to a more personal interaction. "After our phone call, I knew I was ready to meet him," Claudy admits. Their first face-to-face rendezvous was at a restaurant for dinner. Describing their initial real-life encounter, Claudy fondly remembers, "He had such kind eyes and a lovely smile." Scott, on the other hand, was taken by her "personality and beauty." The most astonishing aspect of their date? "The chemistry," both affirm.
The connection was undeniable, and both felt an immediate pull towards each other. Scott fondly recalls the moment at dinner when Claudy held his hand. "That's when I realized this relationship was special," he says. Claudy had her epiphany when she got home after their date, realizing the depth of what she felt.
As their relationship progressed, both Claudy and Scott discovered qualities in each other that went beyond their online profiles. Claudy admired Scott's keen sense of observation and his retentive memory, while Scott was touched by Claudy's caring and loving nature. Asked about the obstacles they faced, both unequivocally state: "None."
Finding love, for them, has been a game-changer. Claudy's life has taken a turn for the positive, and Scott feels the same. The journey has also left them with insights to share with other online daters. Claudy advises, "Go in with a positive state of mind and don't let a couple of frogs turn you off." Scott's counsel? Simply, "Be yourself."
The romance of Claudy and Scott is proof of the advantages of online dating. With optimism, authenticity, and a bit of luck, love can be just a click away.
17 responses to "Love at First 'Click': Claudy & Scott's Romance"
Leave a reply
You must be logged in to post a comment.